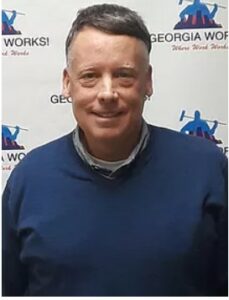 In February of 2013, Bill McGahan walked around downtown Atlanta on a freezing cold night.  He was participating in the point-in-time homeless count. Bill spoke with dozens of men – almost all the people he encountered were men – and quickly concluded that there had to be a better way.  A program was needed to reach abled-bodied work capable men.
    Bill spent the summer of 2013 visiting homeless programs around the country. Out of this research, and after speaking with dozens of providers and hundreds of homeless people, Georgia Works was formed. 
 Many thought that a program like Georgia Works would never work.  These people thought that a program like Georgia Works – that required people to be clean from alcohol and drugs, to follow a lot of rules and to work – would not have many program participants. The naysayers thought that people would not want the structure or rigidity of a program that required people to work on themselves and to change.  They were (and are) incorrect.
    Bill named, incorporated and funded Georgia Works in the summer of 2013.  Behind his commitment of hundreds of thousands of dollars, Georgia Works was able to open its doors in September of 2013.  Phil Hunter was the first hire as the Executive Director.  Phil quickly built out the staff and filled the 35 program beds on the Gateway Center's first floor. 
The program achieved rapid growth
​
due to large demand for the program's services. More importantly than the rapid growth, the graduates of the program showed the remarkable ability to stay clean, employed and housed. Relationships with employers grew rapidly, men got full-time jobs by the dozens, and hundreds of men each year from 2015 to 2019 graduated the program to a job and a place to live, oftentimes for the first time in their life.
   To this day, Bill McGahan represents the largest individual donor to Georgia Works, with donations totaling nearly a half million dollars.  But even more than the donations, Bill gave his time, energy, and credibility to the program.
program was able to garner the support of other donors and employers.  Bill testified in front of the United States House of Representatives on two occasions, the Georgia House of Representatives several times, and gave hundreds of presentations, pitches, and sales calls, all describing how a program like GeorgiaWorks is effective at saving lives.  Bill never received any compensation for years of work, and he was never reimbursed for any expenses.
Through the efforts of a man named Doug Hanson (and his wife Lynne), North Georgia Works was launched in 2018.  Located in Hall County, Georgia (about an hour north of Atlanta), North Georgia Works has created a program to fit their community.  https://northgeorgiaworks.org/history/
Every September Georgia Works staff and board members, family and friends, gather to celebrate the "graduation" of our men.   Guests speakers for these ceremonies have included Governor Nathan Deal and his wife, Sandra Deal, and former Mayor Shirley Franklin.
By 2019 Georgia Works had over 800 successful graduates. Over 80% of these men remained successful – employed, housed, and back in the lives of their families.
In 2020 Darlene Schultz was hired as CEO.  In early 2021 Chip Patterson will be  named as the new Chairman of Georgia Works  The future for Georgia Works has never been more promising, with many more people to help!