Georgia Works!, Inc. is a private, 501(c)(3) nonprofit governed by a board of directors. Community leaders and experts also serve as volunteer advisors to ensure our programs and services continue to meet the ever changing landscape of the unsheltered in metro Atlanta and beyond.
Chip Patterson grew up in metro Atlanta since 1976.  After graduating high school, he attended Georgia State University on a Pell grant.  While going to school, he started a job as a parking attendant and shortly after was given an opportunity to start his own parking company which became Ameripark, in 1986. For the next 25 years, he grew Ameripark into a nationwide company and eventually sold the company in 2011.  After a year off, Chip began to develop real estate and now have completed four hotel projects in the southeast.  He is married to his high school sweetheart and they have four children.
While working as a parking attendant, Chip came face to face with many people living without a home and many eventually worked for me and became friends.  Chip would help them find shelter and work and it became his passion.  When he sold Ameripark,  he vowed to devote more time to help solving this issue of homelessness and soon after joined the Ga Works board. " I am honored and excited to be the new chairman of the board and will work tirelessly to continue the incredible work Bill has started" said Mr. Patterson.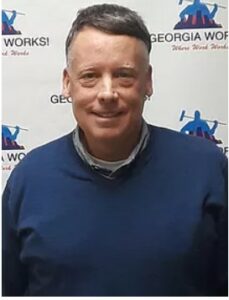 William C. McGahan
Founder and Board Member
Bill founded Georgia Works! because he believes every life has value, and virtually every person can be given the tools and habits to make their lives better.  Many men simply have horrible habits, role models and environments. Bill has been involved in many community organizations and non-profit boards including: The State of Georgia Housing Trust Fund for the Homeless Commission; Atlanta Area Co-Chair of the Steering Committee for the Governors Office of Transition, Support and Reentry; From Houses to Homes; Atlanta Academy; The Howard School, The Paces Civic Association; and The National Foundation for Facial Reconstruction. Bill earned a Bachelor's Degree in Economics from Southern Methodist University, and an MBA from the University of Virginia. He and his wife Lisa have four children. They reside in Atlanta.
Ms. Rios currently works in the Mayor's Office of Innovation and Performance in Atlanta, where she provides leadership and project management support for the Administration's police reform initiatives. She holds a BA from Tufts University in Anthropology and Community Health and an MPH from Harvard University in Social and Behavioral Sciences. 
Ms. Rios has dedicated her career to eliminating racial/ethnic health inequities, understanding that the physical and social environments we live in help determine health outcomes and access to opportunity. She has served as an Americorps member with The Possible Project, a non-profit that uses entrepreneurship as a framework to close the skills and opportunities gap facing young people. She also worked with the Disparities Solutions Center at Massachusetts General Hospital as a research assistant. Prior to moving to Atlanta to serve in the Mayor's Office, Ms. Rios worked as a Policy Analyst for the Boston Public Health Commission. 
After serving as Dean of the College of Business (1999-2007), Blum became the founding director of Georgia Tech's Institute for Leadership and Social Impact (ILSI), an interdisciplinary unit that develops individual and organizational leadership capabilities for economic growth, social responsibility, and environmental sustainability. ILSI's curriculum and activities increase students' attentiveness to the critical cultural, economic, environmental and social issues they will face as they advance in their chosen professions, preparing them to be more effective leaders in an increasingly complex world. ILSI programs include the Impact Speaker Series, Ideas to Serve (I2S: Socially and Environmentally Responsible Values Enhancements), the Global Social Ventures Competition, the Business Track of the Leadership minor, and founded Georgia Tech's Excel Program.
She has served on the boards of Global Growers, Community Foundation for Morgan County and Ferst Foundation for Childhood Literacy. She currently serves on the executive committee of the board for Camp Twin Lakes, which provides camps for those with serious illnesses, disabilities and other life challenges, and the board of Georgia Works! which transforms the lives of formerly homeless men and their families.  She served many years on the board of MedShare International, a not-for-profit venture that creates value and improves health through the collection of surplus medical supplies and equipment for distribution to health facilities in developing countries.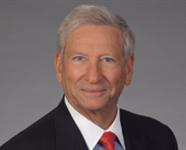 Jack has been involved in the Atlanta Community, and in the issue of Homelessness, for decades.  Jack Co-chairs the United Way Regional Commission on Homelessness. Jack has received numerous awards for his community service, including awards from the Anti-Defamation League, Travelers Aid, and The United Way. Jack is the President of Georgia Legal Services Foundation, Chairman of The Gateway Center, Chairman of the Board of Visitors of Grady Hospital, and Member of the Council of Foreign Relations. Jack is a Founding Partner of Rogers & Hardin. 
Megan L. Sparks
Board Member
Megan is a visionary leader with boundless energy for driving sustainable, equitable growth among people, organizations, and communities. She serves as Senior Director, Programs and Strategic Partnerships, in Mayor Keisha Lance Bottoms' inaugural One Atlanta office, which focuses on equity and resilience. In this role Megan oversees the programming, partnerships, and other equity- and resilience-based strategic initiatives. Additionally, she serves as the Administration's leader on resilience and representative to the global urban resilience movement.
Previously Megan has served in strategic leadership roles across the corporate and nonprofit sectors and founded her own boutique nonprofit, civic, and public consulting firm. Megan grew up in Athens, GA, and is, of course, a life-long Bulldogs fan. She enjoys spending her free time with family and friends, especially playing with her three-year-old niece and brand-new nephew, people-watching across the city, reading in the sunshine, painting, and hugging any dog that comes her way.

Keith Evans was named the fifth President of Westminster Schools in August 2013 and officially took the leadership reins in July 2014. Head of the Collegiate School in Richmond, Virginia from 1999 to 2014. Keith graduated from Davidson College, earning his degree in Religion. He holds master degrees from Harvard University and the University of Tennessee and has taught courses ranging from religious studies to neuroscience to economics and government. Keith is a two time Fellow of the National Endowment for the Humanities and has served on the boards of directors for the Southern Association of Independent Schools and the Virginia Council on Private Education. Keith and wife Emilie, are the parents of two sons, Ronnie and Hank.
Bill serves as Vice President of Evergreen Construction and is one of the founding principals of the company.  Evergreen is a full service multi-disciplinary contractor and construction management  firms and has offered construction solutions in various parts of the country.
Leandrew serves as Senior Warden, Junior Warden, and Treasurer at St. Luke's Episcopal Church in Atlanta. Leandrew also served terms on the Finance Committees of St. Luke's Episcopal Church and Crossroad Community Ministries. 
Adolphus Chandler is a sixth generation Atlantan who grew up in Buttermilk Bottom, a former Old Fourth Ward community rife with poverty,  unemployment, bootleg houses, and juke joints. In the 1960s, the city razed the neighborhood to make way for the Atlanta Civic Center. But by that time, Adolphus, not even 10, had already succumbed to the Bottom's prevalent vices, chiefly drugs, that would shadow and shame him for decades to come. At only 9 years old, he was a child of the streets. For the next half-century, drugs, crime, and homelessness confined his world to a five-block area around Boulevard, where he spent his days roaming, stealing, and manipulating in order to feed his addiction—and to survive. Consumed by that addiction and arrested 95 times as a result, Adolphus counted the next 50 years either on the street or in a prison cell, the former always leading back to the latter. Wherever he found himself, Adolphus lived with his addiction, homelessness, and the lack of a support network to lean on for help.
Adolphus entered the Georgia Works! program in the winter of 2013 and graduated in September 2014. He is now a full time Georgia Works! employee, serving as Intake Coordinator.
"I needed someone who believed in me," he says. "Someone who could see enough in me to say, 'I'm going to help you. As long as you live your life right, I'm going to help you."
Kevin D. Chapman, Jr. is an effective altruistic 13-year higher education administrator with experience in enhancing campus infrastructure for a culture of service increasing faculty engagement, service-learning, and maximizing student development via engaging leadership development, programming, and non-profit partnerships of purpose. 
In addition to being a combat veteran, he is a 2006 graduate of Morehouse College and was an active member of the Emma & Joe Adams Public Service Institute as a community service scholar. Upon graduating from Morehouse, he earned a master's in higher education administration from Georgia Southern University.  In the classroom, he has guest lectured on innovative methods for community engagement and capacity building of non-profits. Under his leadership, scholars have completed over 75k hours of service locally and internationally in the areas of homelessness and food insecurity, education, and political participation. His students have also presented at national conferences, earned community service awards, and garnered news coverage.